The OCTOdent oral aerosol scavenger is designed specifically to remove and filter viruses, bacteria, potentially toxic vapors and microbiological contaminants away from the immediate area of the dentist, assistant and patient.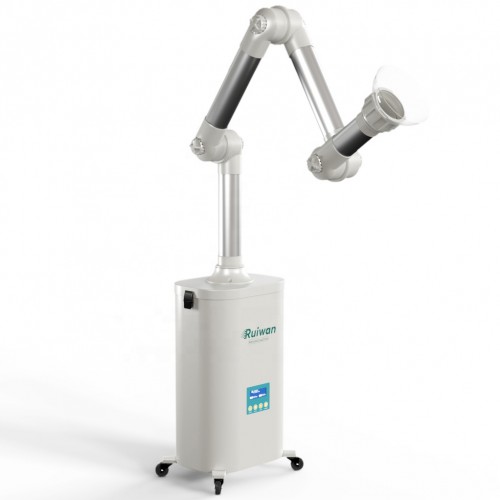 Our scavengers clean the operatory air when performing ultrasonic scaling, high speed drilling and certain other procedures where an oral aerosol vacuum suction system is recommended or required. OCTOdent is a mobile, stand alone, hands free air cleaning device with a flexible source suction duct designed to capture and filter toxic odors, vapors and particulates away from the breathing area for a safer breathing environment. The unit is extremely portable and quiet while in use.
Scientific studies on amalgam removal have suggested that dentist, staff and their patients can be exposed to higher than normal levels of potentially harmful viruses, bacteria, mercury vapor and other contaminants. Placement and removal of amalgam fillings are common dental procedures that are not always performed safely. Our system offers immediate chair-side defense providing a safe worry free environment for your dental office.
Listed below are a few of these contaminants:
Bacteria, Viruses, Fungi, and Prions
Mercury Vapors and particulate from Amalgam Removal
BPA particulate from composites
Noxious Chemical Disinfectant Odors & VOC Gases
Smoke Plume during Dental Laser and Electrosurge Procedures
Air Abrasion and Microetching Dust
Vakker ® Extraoral Dental Suction Unit Aspirator, 1 Year Warranty, 1000watts
UV Disinfection & Plasma Sterilization
The device will greatly reduce the risk of cross-infection between doctors and patients, protects respiratory health.
Strong power suction motor brings fantastic suction effect. Equipped with a wide-mouth suction hood, collect the harmful dust immediately at the source of your mouth.
Double activated Carbon + HEPA high precision Filters, H13 grade. 4 quadruple filtering, filtration efficiency up to 99.97%, 0.3um.
Easily solve harmful substances such as air-liquid droplets, aerosols, cutting dust, and odors in the clinic or laboratory.
Segmented free move arm, the operator can adjust direction freely.
Sensor touch screen, easy to adjust the working speed per request.
Time recorded system will auto record the using time.
In fact, each one have their advanges, coco extraoral aerosol suction machine is more cost-effective for most dental practice. You can make a chooice depend on your demand and budget.
VacStation Extra-oral Suction System VS DURAMAX aerosol control system
Extraoral Droplet Suction Unit is Essential for Dental Practice